About the Flood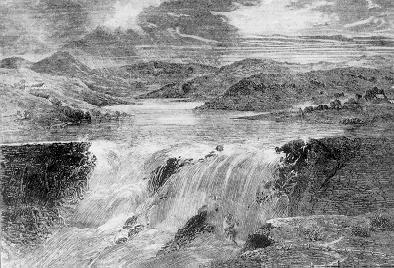 The Great Sheffield Flood, also known as the Great Inundation, was a disaster that devastated areas in and above Sheffield on March 11, 1864.
Dale Dyke (or Bradfield) resevoir was one of a planned four resevoirs built around Bradfield, about 8 miles north-west of Sheffield, to satisfy the developing steel industry of Sheffield. The embankment damming the Dale Dyke stream was of earth construction (500 feet wide, 100 feet high), forming a resevoir a mile long and a quarter mile in width.
It was almost completed when it was breached during a storm just before midnight on the 11th March. Within an hour some 650 million gallons (3 million m³) swept through a gap 110 yards wide at the top and 70 feet deep. The torrent of water swept down the Loxley valley through Low Bradfield down to Hillsborough and into Sheffield. The flood reached a depth of 26 feet (8 m) on the upper Loxley, and 6 feet as far as Lady's Bridge in the centre of Sheffield.
The Loxley valley was heavily industrialised, and the flood destroyed mills, grinding wheels, warehouses, etc, as well as inns and domestic dwellings. A contemporary report lists 4 mills, 17 workshops/warehouses, 3 shops, 39 houses and 2 beer houses totally destroyed; a further 17 mills, 11 workshops/warehouses, 15 shops, 376 houses and 22 beer houses were partially destroyed. Over 4,000 houses were flooded. There were 240 reported deaths, though the total may have been higher, especially if consequent deaths are taken into account.
Following a special Act of Parliament, compensation of £273,988 was paid for damage to property, injury to persons, and loss of life – one of the largest insurance awards of its time.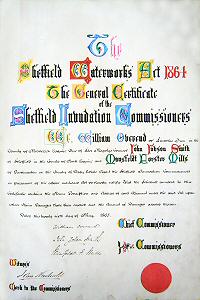 Further information:
The Flood Claims: A Postscript To The Sheffield Flood – An analysis of the industrial context of the flood by Jean Cass, Transactions of the Hunter Archaeological Society, Volume 15 (1989).
Claims for books lost in the 1864 Sheffield flood – Tanya Schmoller, Quadrat; British Book Trade Index, 2005 (Adobe PDF document, 610kB).
A Complete History Of The Great Flood At Sheffield – Samual Harrison, a local journalist, wrote this exhaustive account of the flood immediately following the event (Adobe PDF document, 520kB).
Illustrated London News – two articles from Saturday March 19, 1864.
Picture Sheffield website: Photographs of the aftermath of the Flood can also be viewed (and purchased) at the Library Service of Sheffield City Council (enter 'Flood 1864' in the search).
Michael Armitage website: This is a comprehensive website run by Michael Armitage, including photographs, maps, and associated local history.
Gunson's Ride: by 'Pinniped' on the BBC's h2g2 site. John Gunson was Chief Engineer of the Sheffield Waterworks Company. This follows his journey to the dam on the night of the burst.
Channel 4's Time Team did a programme on Sheffield's 'Great Flood'.
Dams: If you are interested in the science of dams and 'dam failure', there is a SimScience web-site, 'Cracking Dams', offering information in 3 levels for beginners, intermediate, and advanced.